Frequently Asked Window Treatment Questions – Here are just a few frequently asked window treatment-related questions answered by Gotcha Covered owner John Weigel.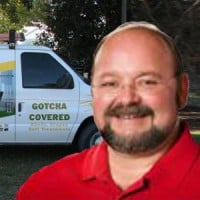 352-378-3646
Frequently Asked Window Treatment Questions
What does inside and outside mount mean?
Inside mount or inside bracket (IB) means that the blind will mount inside the window frame and in most cases be flush with the wall. The outside mount or outside bracket (OB), blinds will be mounted on the wall and therefore cover the window and the frame when measured properly for overhang. Most blinds are measured to fit inside the window frame. 
What is a 2-on1 headrail blind?
This feature is recommended only for wide windows. When a window exceeds a certain width, the blind should be split into two independent blinds that share the same top or headrail. Many times you can purchase two single blinds that will serve the same purpose.
Do your blinds include a valance?
Yes, a decorative valance is included free of charge with each blind. An optional valance upgrade may be available for certain blinds and shades and may have a small extra charge. For outside mount blinds, your valence will have side returns as well.
Do the color samples represent an exact match for the finished product?
While we strive to make sure our color samples are a very close representation of the finished product, the color samples may not represent an exact match. Different dye lots and materials make it impossible to guarantee an exact match.
What type of frames do your plantation shutters have?
This depends on if you are ordering inside or outside mount and the type of frame that you have selected. You will be able to select the frames at the time of the order. Please contact us directly if you have any specific questions regarding this.
What type of materials are your window treatments made from?
Since we carry a wide selection of window treatments, each one will be made of its own specific material. This can vary by product and manufacturer. Please contact us at any time to talk with our one of our staff about any questions you cannot find answers for on the website.
Do you have a showroom?
No, we bring the showroom to your home with our free in-home service. In addition, we also offer free measuring and free installation on all of our products.