Cheap Tricks to Transform Your Home Living Space – Today's guest blog is by the Law Office of Seth K. Bell. The opinions expressed by the author in this and all guest blogs are not necessarily those of Gotcha Covered.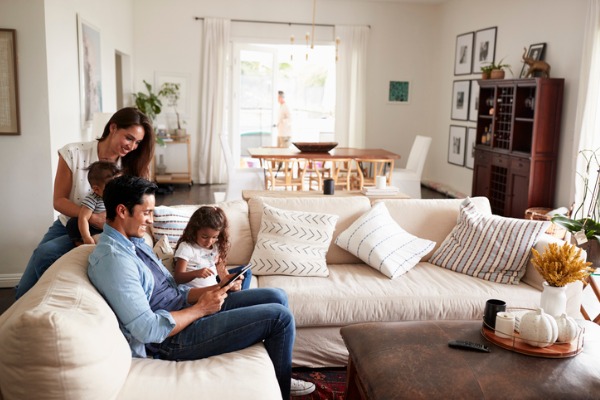 Cheap Tricks to Transform Your Home Living Space
Do you ever feel like your living room could use more color or your bedroom gives off vibes of 'boredom'? This means some redecorating is inevitable because the way your living space looks can affect your mood and energy. A dull environment can make you feel wearisome, whereas vibrant aesthetics shall make you feel cheerful and uplifted. You do not need to hire a professional interior decorator or an experienced Estate Planner to transform your dwelling. Not all of us can afford an extreme makeover or complete renovation, and that is the least of your problems. Adding a bunch of inexpensive elements can instantly liven up your place and make it feel more like home.
Create an Accent Wall
If all the walls of your room are painted the same boring color, it's no surprise the space looks so plain and lackluster. You can create an accent wall by covering one of the walls in some funky wallpaper. Choose a color and pattern that makes the wall stand out and complements the other elements of the room. You can also choose a bright contrasting paint color to make an accent wall stand out.
Incorporate Elements of Nature
Potted plants add some greenery and a breath of fresh air. They are low maintenance and work well with all kinds of color schemes. A snake plant, rubber tree, peace lily, and Aloe Vera are some good options to consider. You can also opt for artificial plantation or flowers as an alternative.
Add a Mirror
A mirror will add depth to your room and make it look wider. Instead of shopping at cookie-cutter furniture stores, take a look at downtown markets selling second-hand stuff. You are bound to find something cheap yet unique, which will snatch the attention of your guests.
Throw Pillows
Get a bunch of decorative cushions/throw pillows from Ikea or somewhere and place them all over the space. Your gloomy-looking couch and tedious armchairs will suddenly spring to life. You will be surprised how much difference a little fluff, color, and pattern can make.
Cute Rugs
A barren floor can make the room look icy or hollow. Adding one or more flamboyant rugs will spice up the environment and provide some coziness in the winters. You can find many affordable options in thrift shops, on Amazon, and eBay.
Wall Art
Empty walls are wasted space and promote a sensation of loneliness. Instead of buying pricey pieces of hanging art, you can take up DIY projects. There is an artist in everyone, so utilize your creativity to make your space a prettier place. Order a couple of cut-rate frames and use them to display your photography, sketches, abstract art, embroidery, or printed pictures/quotes.
Change up the Lighting
The right kind of lighting can make the ugliest room look like a five-star hotel suite. Aside from the conventional ceiling lights, add a few table/floor lamps, hanging fairy lights, candles and perhaps some fluorescent trinkets. If your budget allows, you can even install a chandelier or some of those fancy wall bulb holders.
EndNote
Make sure to refer to your area's Landlord-Tenant law before initiating any drastic changes. The ideas mentioned above are generally harmless, so they can be applied to a rented apartment. Have fun redecorating and turn your monotonous lodging into a delightful haven.
Read More