Hunter Douglas Window Fashions by Gotcha Covered in Gainesville Florida. Are you looking to transform your living spaces into elegant sanctuaries of comfort and style? One of the best ways to achieve this is by incorporating high-quality window treatments. Gotcha Covered is one of Gainesville's oldest and most reputable window fashion dealers and offers a wide range of Hunter Douglas products. In this blog, we'll explore how these window treatments can enhance your home and why Gotcha Covered is your go-to destination for window treatments in Gainesville.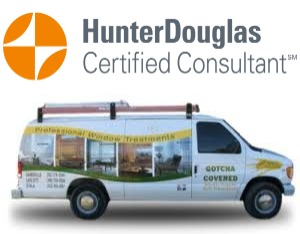 Hunter Douglas Window Fashions by Gotcha Covered in Gainesville Florida
The Artistry of Hunter Douglas
Hunter Douglas is synonymous with innovation and craftsmanship in the world of window fashions. For over 70 years, they have continually pushed the boundaries of design and functionality. Their window treatments are known for combining timeless aesthetics with advanced technology, offering homeowners a versatile array of options to elevate their interior spaces.
Here are a few standout features that make Hunter Douglas a top choice for residents in Gainesville:
Light Control: Hunter Douglas offers various light control options, from sheer and translucent fabrics to room-darkening and blackout materials. This allows you to effortlessly manage the amount of natural light in your rooms, creating the perfect ambiance.
Energy Efficiency: In the sweltering Florida heat, keeping your home cool is crucial. Hunter Douglas window treatments are designed to block harmful UV rays, insulate your home, and reduce energy consumption. These treatments can help you save on your energy bills and create a more comfortable indoor environment.
Customization: Hunter Douglas provides a wide range of colors, patterns, and styles to choose from, allowing you to match your window fashions to your interior décor. Whether you prefer the clean lines of modern aesthetics or the warmth of traditional designs, there's something for everyone.
Motorization: With Hunter Douglas PowerView Motorization, you can easily control your window fashions with a remote or your smartphone. This convenient feature adds an extra layer of sophistication to your home while improving the functionality of your window treatments.
Why Choose Gotcha Covered in Gainesville?
Now that you're aware of the many benefits that Hunter Douglas offers, let's talk about why Gotcha Covered is your ideal partner in Gainesville, Florida.
Personalized Consultation: The team at Gotcha Covered is committed to helping you find the perfect window fashion solutions for your home. They offer personalized consultations to assess your needs and recommend the most suitable Hunter Douglas products.
Expert Installation: Proper installation is key to getting the most out of your window treatments. The professionals at Gotcha Covered ensure that your Hunter Douglas window fashions are installed flawlessly for optimal performance and longevity.
Local Expertise: As a local business, Gotcha Covered understands the unique climate and style preferences of Gainesville residents. They can provide recommendations tailored to the specific requirements of your area.
Exceptional Customer Service: Gotcha Covered prides itself on exceptional customer service. From the moment you select your window coverings to the final installation, you'll experience attentive, friendly, and knowledgeable assistance every step of the way.
The beauty and functionality of Hunter Douglas window fashions are unbeatable, and when combined with the expertise and customer-centric approach of Gotcha Covered in Gainesville, you'll be on the path to creating a home that's both inviting and energy-efficient. So, whether you're looking to revamp your living room, bedroom, or any other space, Gotcha Covered is the place to explore your options and transform your home with Hunter Douglas window fashions. Your home deserves the best, and that's precisely what you'll get with this dynamic duo in Gainesville, Florida. Contact us today to schedule your free in-home consultation.
Read More