15 Tips To Make Your Home Cozy
15 Tips To Make Your Home Cozy – Today's guest blog is by The Law Offices of Aaron Bortel. The opinions expressed by the author in this and all guest blogs are not necessarily those of Gotcha Covered.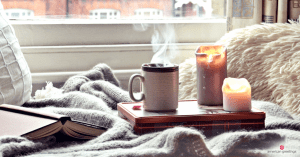 15 Tips To Make Your Home Cozy
Winters are that time of the year when the saying "there's no place like home" hits hard. Many of us retreat to our family home for the holidays and go into full hibernation mode. The frosty landscapes and snow-covered real estate are charming, as long as the indoor atmosphere is a strong contrast. While you're staying inside to escape the cold, it is high time to experiment with your interior decorating skills. Make some changes or additions around the house to make it nice and cozy for yourself and those who shall be visiting you for the holidays. Follow these amazing tips to add some warmth to your place without breaking the bank:
1.      Bring Out the Rugs
Furry rugs and plush carpets are wonderful for adding some character to your living space, whilst keeping the floors warm. Unlike wood and tiles, they don't feel icy to the touch and help trap heat in the house. Your kids and pets can joyously play indoors, without the fear of catching a cold.
2.      Opt for Warmer Lighting
While natural sunlight irradiates the summer days and bright white bulbs do the trick at night, the same things don't work for the winters. Dimmed and warm lighting is more suited to the chilly season, as it provides a unique sense of comfort. Lamps glowing with soft yellow light are great for illuminating dark corners and candlelight adds a hint of romance to the cold air, thereby melting stone-cold hearts.
3.      Replace your Drapes
Time to close the windows and invest in some thick and flowing drapes, preferably made of heavy fabric, such as velvet, chenille, or silk. You can also opt for thermal curtains or blinds to provide an extra layer of insulation to your windows. Choose dark colors, as they are better at absorbing heat and match the winter aura.
4.      Rearrange the Furniture
If your rooms are spacious and airy, you might have to rearrange the furniture to make them look slightly compact and feel cozier. Pull the couches and loveseats closer together and perhaps fill in the empty spaces. Some extra lamps and cushions will help a lot.
5.      Keep the Coffee Brewing
A cup of steaming hot coffee is the best thing you can imagine on a freezing winter morning. The craving for caffeine surely doubles when it's snowing outside. Make sure that your kitchen pantry never runs out of those magic beans. A home that is constantly infused by the aroma of freshly brewed coffee is winter's heaven. The coffee shall also compensate for overdrinking and morning hangovers, thereby preventing DUI/DWI crimes on the snow-laden streets.
6.      Set the Mood with Scents
Cozying up your home goes beyond what meets the eye, or the sense of touch. Certain smells and fragrances can also change the way you feel about your surroundings. Scented candles and infusers humidify the place and generate a calming effect. Whiffs of spicy cinnamon, sandalwood, vanilla, and cocoa will instantly make you feel warm inside.
7.      Update your Bed Linens
A cozy bed is everyone's safe haven in the frosty season. Go shopping to get some holiday-themed quilted sheets to elevate the quality of your winter naps. Egyptian cotton, flannel, and fleece are a few materials that regulate temperature.
8.      Play with Colors
Every color is associated with a distinctive ambiance, which we can use to our advantage. Fall colors like orange, brown, and black radiate warmth. Similarly, the classic red is ideal to channel the holiday spirit. Neutral greys and blues are also favorable to make a room look comfy and cozy.
9.      Blankets and Throw Pillows
The more blankets and throw pillows you have scattered around the house, the better. You never know when you need to snuggle up with friends or family during a never-ending hail outdoors. Keep an ample supply in every sitting area/lounge for convenience.
10. Unleash your inner Baker
The heat generated by an oven that remains ablaze for hours is unmatched. If you need a hobby to keep yourself busy and happy during winter break, baking is perfect. The aroma of freshly baked goods is refreshing and the perfect remedy to heal all sorrows and personal injuries.
11. Fashion a Fire Place
You are very lucky if your house has a built-in traditional fireplace. If not, there are several portable alternatives to warm up your place. I would recommend a digital fireplace, which is safe, practical, and cost-effective; not to mention, it looks stunning and requires low maintenance.
12. Cover the Tables
Flaunt some decorative textiles on the dining table, coffee tables, and any counters around the house. They will keep the surfaces warm and holiday-themed tablecloths look adorable.
13. Add Greenery
It may be all white and cold outside, but you can make the indoors green and inviting. Potted plants help incorporate a tropical or temperate atmosphere. You can also opt for artificial greens if real houseplants are unavailable or seem like too much work.
14. Layered Seating
You can make your sofas and chairs warmer by adding layers atop. For instance, if you own leather couches, they are likely to feel cold on contact. You can opt for pullover sofa covers that are made of thick and warm fabric. You can also add quilted covers or thin cushions to your chairs as well. Spreading blankets over the loungers and settees is also a nice way to incorporate coziness.
15. Set up a Reading Station
Reading is one the most productive things you can do cooped up at home in the winter. Place a settee, chaise, or day bed by the windowsill to enjoy a good book in the natural light. Don't forget to add a few pillows and a fluffy blanket.
Read More