Improve Your Decor with Custom Window Treatments
Improve Your Decor with Custom Window Treatments – Today's guest blog is by The Traylor Law Firm. The opinions expressed by the author in this and all guest blogs are not necessarily those of Gotcha Covered.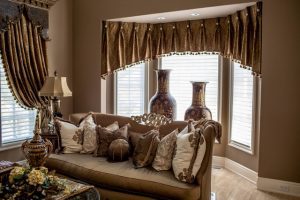 Improve Your Decor with Custom Window Treatments
Windows are an integral part of a home; the way they are designed or decorated adds to the overall aesthetic value. While the outside look of a window can be enhanced with a customized balcony, fancy glass/frame/railing, and the right shade of paint, the insides can be decorated with blinds, shades or curtains, or a combination of all. Window Treatments that match the rest of the room's interior can definitely boost the decor and beauty of your house. They are vital for adding privacy and protection from outdoor extremities, such as cold, heat, sunlight, and wind.
Open windows may provide a better view, but do not leave with the option of privacy. How can people comfortably live in a space where they are constantly visible to people on the other side of a window? People already post too much of their lives on the internet, so some sacred moments should remain behind closed doors and windows.
When you're moving into a new house or renovating your old home, window treatments such as blinds, shades, and draperies are fundamental to the process. 'Who cares about the windows' said no one ever. Nobody wishes to be completely exposed or concealed from the outdoors at all times. Window Blinds and Window Shades are adjustable, so you can control your surroundings in accordance with your comfort and needs. You would not want to block a nice view, hinder the sun's warmth, or obstruct bright light during all hours of the day. A window without window coverings is like an empty canvas, and you are the artist who must bring life to it.
Shopping for home décor is fun, especially when the market is so diverse and there is so much to choose from. The modern era has quite a lot to offer in the window treatment department. The varieties of materials, colors, and designs are endless, which allows us to bring something exceptional to our home's interior decoration. Gone are the days when dull-looking identical window curtains were seen in every room of the house. Nowadays, it's all about mix & match, creativity, innovation, and standing out.
When you shop for window blinds, window shades or curtains, you will find them in many different materials. The assortment of traditional and contemporary drapes is overwhelming indeed. There are options for everyone, with regard to climate conditions, personal preferences, and allergies. Similarly, blinds are manufactured using different materials as well, you can pick wood, plastic, metal, or fabric. Blinds, shades, and curtains are available in multiple colors and patterns. You can go for solid colors, contrasting shades, flowery themes, or select a custom-made design.
A combination of blinds, shades, and curtains provides better privacy and functions as multiple layers of insulation against low and high temperatures. They are sold in different sizes and there are options for every budget. Most window treatments are durable, easy to clean and make your home a cozier place.
Read More