Gotcha Covered Window Treatments For Your Gainesville Florida Home
Gotcha Covered Window Treatments For Your Gainesville Florida Home. When it comes to creating the perfect ambiance in your Gainesville, Florida home, window treatments play a vital role. From providing privacy and light control to enhancing your interior aesthetics, the right window treatments can transform your Gainesville home. In Gainesville, one name stands out in the world of window treatments – Gotcha Covered. Gotcha Covered window treatments are the go-to choice for homeowners in Gainesville, Florida. 
Gainesville, Florida is known for its beautiful sunshine, but with great sunshine comes heat and UV rays. The harsh Florida sun can lead to several challenges, including UV damage, excessive heat, and glare. Gotcha Covered Window Treatments are tailored to combat these issues effectively. 
UV Protection: The Florida sun can be unforgiving, and its UV rays can damage your furniture, flooring, and artwork. Gotcha Covered offers a range of window treatments like solar shades and UV-blocking blinds that not only filter out harmful UV rays but also reduce glare while preserving your stunning views.
Energy Efficiency: Gainesville's warm climate often leads to high cooling costs. Gotcha Covered offers energy-efficient options like cellular shades and plantation shutters that help insulate your home, keeping it cool in the summer and warm in the winter. This not only enhances your comfort but also reduces your energy bills.
Customization: Every home in Gainesville is unique, and your window treatments should reflect your style and preferences. Gotcha Covered offers a wide variety of materials, colors, and styles to match your interior design vision perfectly. From classic to contemporary, they have you covered.
Privacy is a top priority for homeowners everywhere, and Gainesville is no exception. Whether you live in a bustling neighborhood or a quiet suburban area, having the right window treatments can enhance your privacy and security.
Motorization: Gotcha Covered motorized window treatments offer a convenient way to control privacy and light. With the touch of a button, you can raise or lower your shades, giving you complete control over your living spaces.
Privacy: Gotcha Covered window treatments are not just about aesthetics; they also provide privacy for your home.
Aesthetics and Versatility – Window treatments aren't just practical; they are a significant part of your home's aesthetics. Gotcha Covered understands this, and they offer an impressive array of options to suit your style.
Window Blinds – For a more traditional look, choose from a large selection of window blinds including Mini Blinds, Vertical Blinds, Faux Wood Blinds, Wood Blinds, and other horizontal blinds.
Plantation Shutters –  These timeless window treatments add a touch of elegance and charm to any home. They come in various louver sizes and materials like wood, faux wood and vinyl to match your style and budget.
Window Shades – If you prefer a softer, more classic look, Gotcha Covered window shades offer a cozy and inviting atmosphere. Chose from Pleated Shades, Cellular Shades, Roman Shades, Silhouette Shades, Roller Shades, and Woven Wood Shades. They are available in a range of fabrics and patterns.
Custom Drapery – For those looking for a truly unique and luxurious window treatment, Gotcha Covered can create a custom drapery that complements your interior perfectly.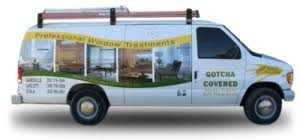 In Gainesville, Florida, where the sun shines bright and privacy matters, Gotcha Covered Window Treatments have become the trusted choice for homeowners. With their commitment to privacy, energy efficiency, customization, and aesthetics, they have got your windows covered. So, if you're looking to elevate your Gainesville home's style, comfort, and security, consider Gotcha Covered for all your window treatment needs. Say goodbye to the harsh Florida sun and hello to a more comfortable, beautiful, and private living space. To schedule a free in-home consultation call 352-378-3646 and we will bring our mobile showroom to you.
Read More